Nach einer längeren Pause von meiner Seite melde ich mich nun mit einem kleinen Reisepost wieder. Die letzten Wochen war bei mir Prüfungsendspurt. Eine Prüfung folge auf die andere und wie das dann immer so ist, hat man plötzlich kaum mehr Zeit sich anderen Dingen zu widmen. Am Freitag war mein letzter Unitag, um 17 Uhr ging unser Zug Richtung Süddeutschland. Fünfeinhalb Stunden später sind mein Bruder und ich am wunderschönen Tegernsee angkommen, wo unser Cousin seine Hochzeit feierte. Hier habt ihr ein paar Eindrücke von unserer Reise.
After a short blogging break I return with a little travel post for you. The past few weeks have been a final exam spurt. One exam came after the other and I didn't have the time to concentrate on anything else. But Friday was my last day of school before summer break and around 5 in the evening we took a train to South Germany. Five and a half hours later we arrived at our destination: Tegernsee. Our cousin celebrated his wedding there on Saturday. Here are some of the impressions that I captured with my phone.
Der Ausblick von dem Hotel, in dem die Hochzeit stattgefunden hat. Vormittags war es noch dunkel bewölkt aber wir hatten großes Glück und es ist zum Großteil trocken geblieben.
Mein Bruder und ich vor der wunderschönen Kulisse!
Das Hochzeitsauto – dieser süße gelbe VW Käfer.
Die wunderschöne Kirche St. Quirinius.
The view from the Hotel where the wedding took place. Around early noon it was a bit dark and cloudy but we were lucky not to have much rain.
My brother and my in front of the beautiful scenery.
The wedding car was this cute yellow VW Käfer.
The stunning church St. Quirinius fom inside.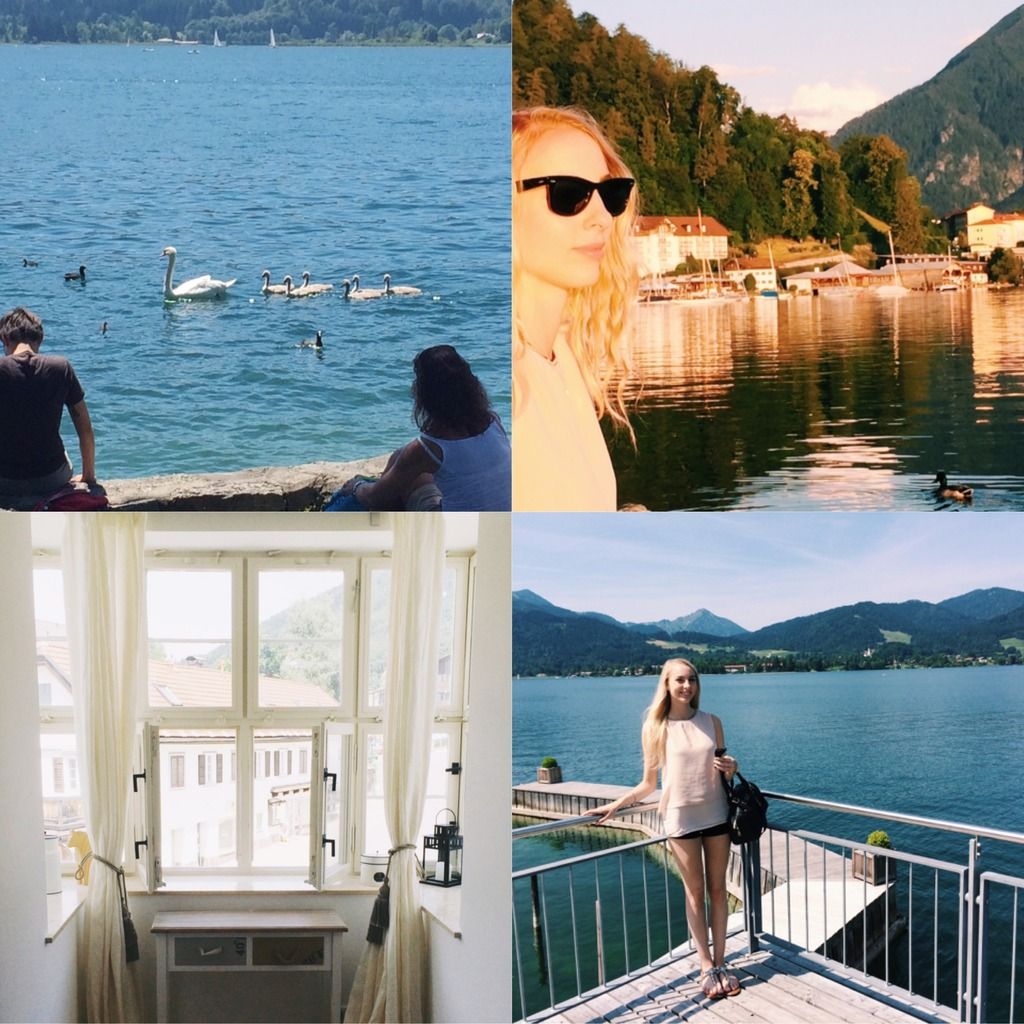 Den Sonntag haben wir größtenteils am See verbracht, genau wie diese kleine Schwanenfamilie
Impressionen vom Sonnenuntergang.
Unser morgendlicher Ausblick!
Wir hatten unglaubliches Glück mit dem Wetter: 26°C und Sonnenschein.
We spent Sunday mostly at the lake, sunbathing and swimming. Just like this swan family.
Impressions from the sunset.
Our view in the morning!
We were lucky to have 26°C and sunshine throughout our trip!
Abends am See.
Ein weiteres Bild vom See mit Sonnenuntergang.
Unser Frühstück am Montagmorgen
Nochmal unser Frühstück mit Blick auf den Tegernsee.
Chilling at the lake in the evening
Another photo of the sunset.
Our breakfast in the morning.
Again, this time with the view!