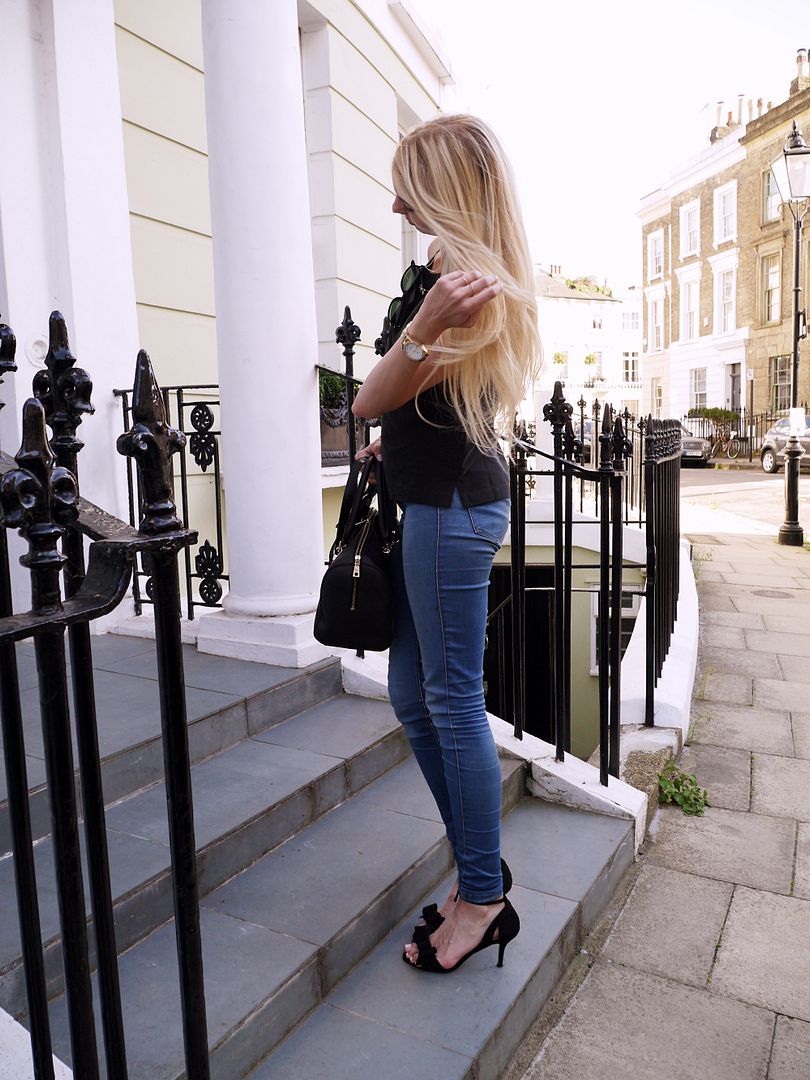 Wie ihr aus einem meiner letzteren Posts wisst, habe ich eine große Liebe zu Basic-Kleidungsstücken. Eine noch größere Liebe habe ich zu ihnen, wenn sie ein besonderes Detail haben, das man erst auf den zweiten Blick sieht. Sei es ein kleines goldenes oder silbernes Schmuckstück, das in den Stoff integriert ist, ein Patch, Schleifen oder eine andere kleine Besonderheit. In diesem Sinne möchte ich Euch mein neues Top von Ann-Sofie Back zeigen, welches ich mir in London gekauft habe. Es hat einen ganz seidenen, etwas stärkeren Stoff, was ich besonders gerne mag. Für mich ist es ein Ausgehtop genau nach meinem Geschmack.
As I told you in one of my previous posts I have a passion for basic clothing pieces. I like it even more if they have a special little detail that can be seen not at first but at second sight. A golden or silver little piece of jewelry attached to the fabric, a patch, bows or other little feature. That's why I wanted to show you my new top by Ann-Sofie Back that I bought in London. It is made out of a smooth, velvety fabric. For me the perfect top for a night out.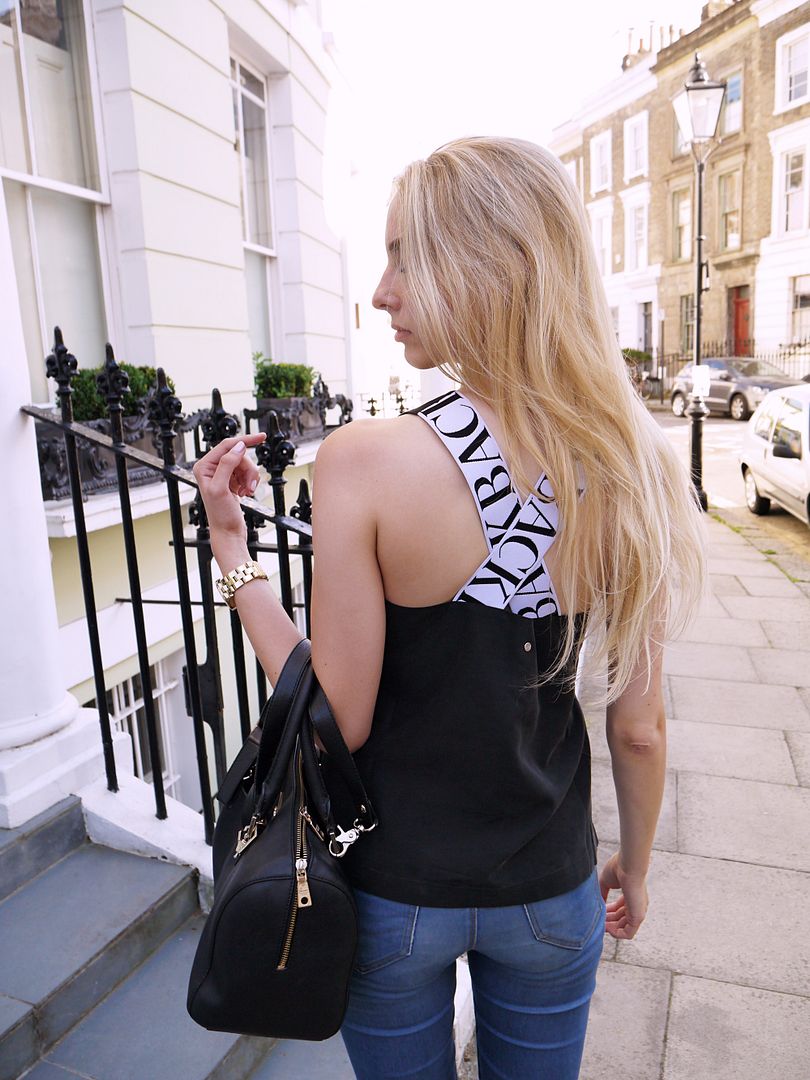 Die Bilder sind übrigens im wunderschönen Londoner Stadtteil Primrose Hill entstanden. Wenn ihr mal in London seid und genauso besessen von schönen Häusern seid, dann solltet ihr hier auf jeden Fall vorbei schauen! Auf dem Hügel, dem Primrose Hill, nach dem der Stadtteil benannt ist, hat man eine tolle Aussicht über die Innenstadt bis hin zum London Eye.
I took these photos in Primrose Hill, a beautiful part of London. If you plan to visit London you should definitely take a walk around the beautiful houses. From Primrose Hill, a hill after which the area was named, you have a view all over London to the London Eye.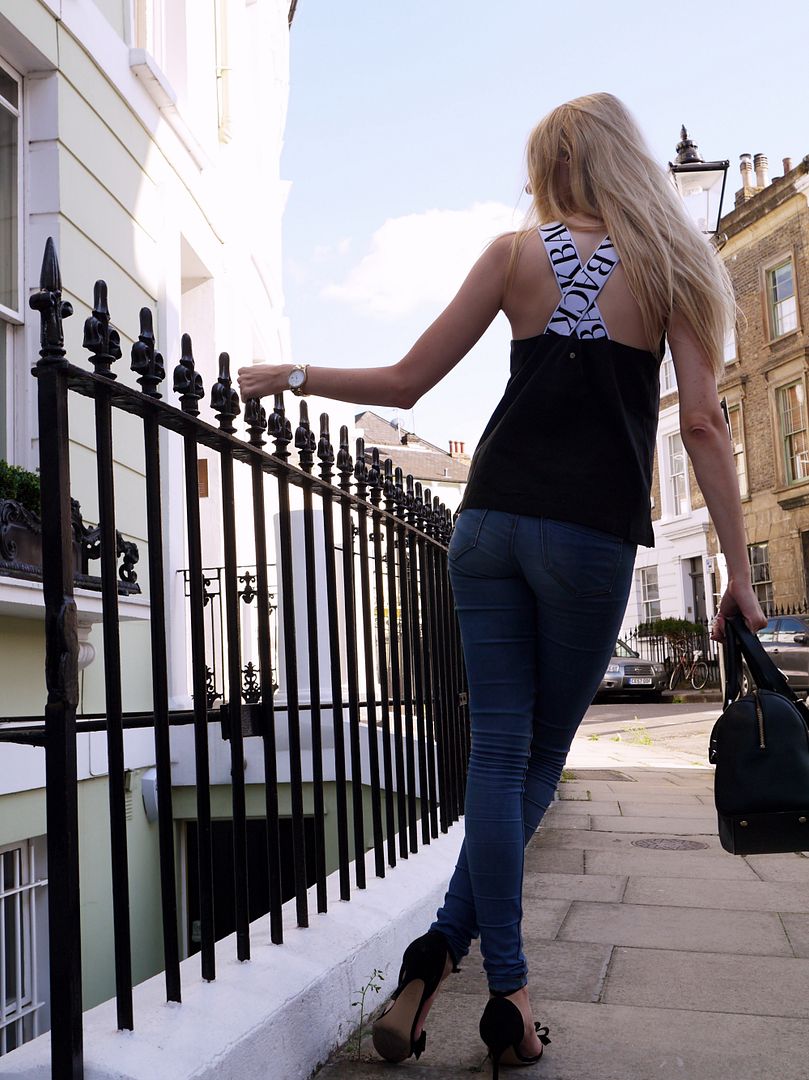 Top – Ann-Sofie Back | Uhr – Marc Jacobs | Jeans – Only | Schuhe – KG by Kurt Geiger | Tasche – DKNY